The Musician's Guide To Vintage Microphones
Vintage microphones are highly sought after by audio enthusiasts and collectors due to their unique sound and historical significance. Modern manufacturers are still emulating many of the classic mics, some of which are almost a century old. This post offers a growing index of information on vintage microphones:
Condenser Microphones
Condenser microphones offer versatility, and the ability to capture detailed recordings. They are more sensitive/fragile than dynamic microphones and can't withstand high SPLs as well. Condenser microphones have been a go-to on vocals, acoustic guitars, pianos, and drum overheads. Here are some of the most iconic vintage condenser microphones:
Neumann/Telefunken U47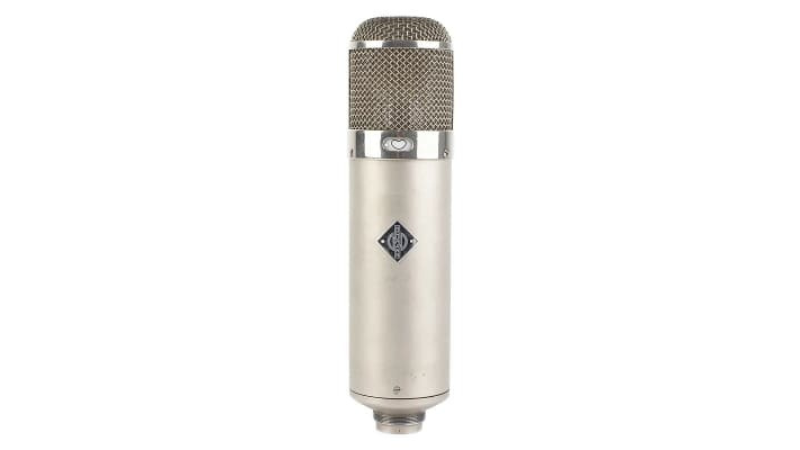 (photo courtesy of Reverb.com)
The Neumann Model U47 was the first post-war era microphone produced by George Neumann GmbH in West Berlin. The original model featuring the iconic VF-14 valve was introduced in 1947 (hence the name "U47") and was manufactured until around 1958. U47's were distributed by Telefunken thus some microphones say "Neumann" and some say "Telefunken" even though they are the same mic. The U47 became Frank Sinatra's favorite vocal mic after he was signed to Capital Records in 1950, nicknaming it his "Telly."
The U47 can switch between two polar patterns: cardioid and omnidirectional. It also features a -10db pad and a low cut.
The U47 is the top choice for many engineers and musicians including George Martin (you can hear the U47 on lots of Beatles recordings). The microphone has been used and continues to be used on countless iconic recordings like Miles Davis "Kind of Blue."
AKG C12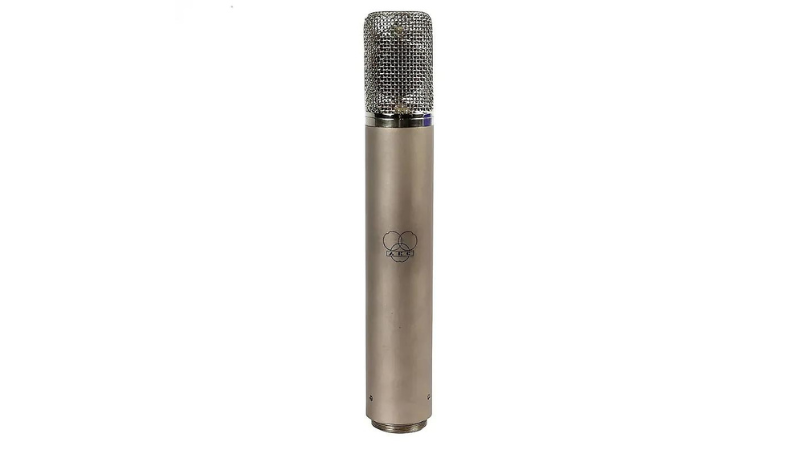 (photo courtesy of Reverb.com)
The C12 was first introduced in 1953 and were produced until 1963. Approximately 2,500 were made. It features a total of 9 different polar patterns including cardioid, figure 8, omnidirectional, and combinations of the three. The polar patterns are changed with a remote controller attached to the power supply.
Elam 250/251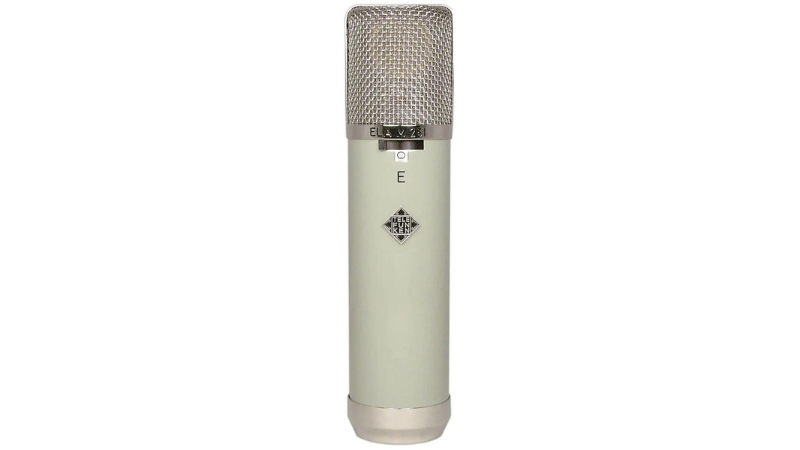 (photo courtesy of VintageKing.com)
The Elam 251 was created for Telefunken by AKG to fill the void of the U47 around 1960 when Neumann quit providing Telefunken with U47's. The 251 was similar to the C12, but instead of changing polar patterns with a remote, the 251 has a switch on the mic. The Elam 250's only difference to the 251 is that it has two polar patterns instead of three: omnidirectional and cardioid. The body and internal circuitry of the 251/250's are also slightly different than the C12.
Neumann U67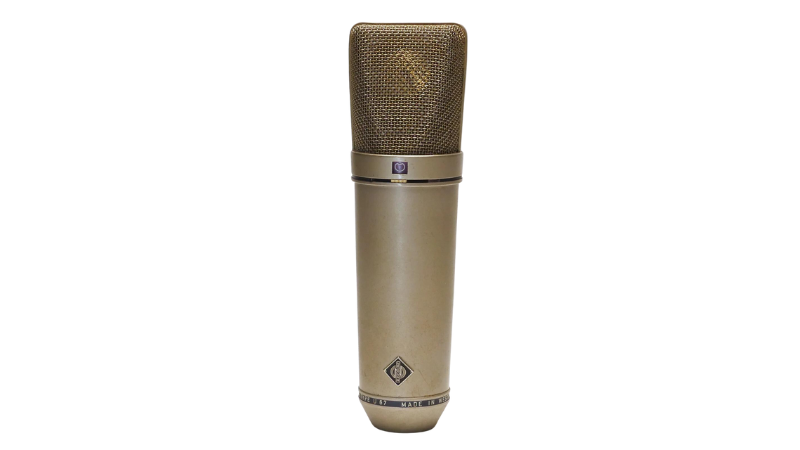 (photo courtesy of Reverb.com)
When the VF-14 tube was discontinued around 1958 due to the inability to manufacture it while adhering to modern safety protocols, the U67 was introduced as a replacement. The U67 features a smaller tapered body, a K67 diaphragm, three polar patterns (added the figure 8 pattern), and the familiar -10db pad and highpass filter.
Neumann/Telefunken U87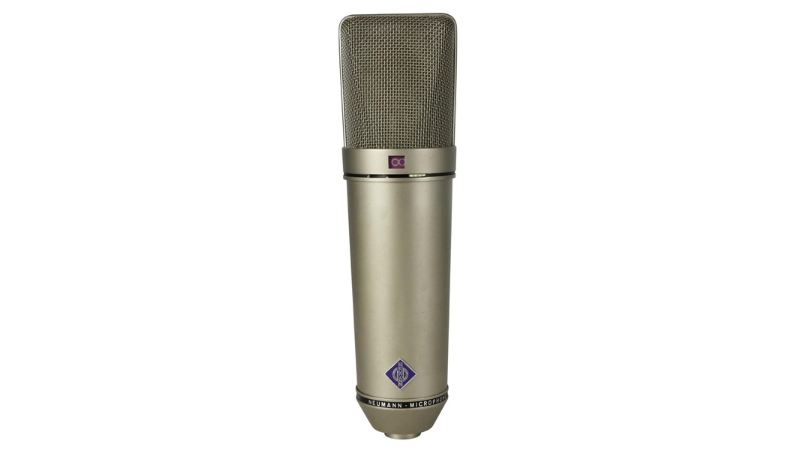 (photo courtesy of VintageKing.com)
The Neumann U87 replaced the Neumann U67 in 1967. Unlike the U67, the U87 has a FET (Field Effect Transistor) and can be used with phantom power. The U87 has three switchable polar patterns (Cardioid, omnidirectional, and figure 8), a -10db pad, and a highpass filter.
Like its predecessors, the U87 is extremely versatile and can be used on vocals, drums, guitars, pianos and more, and is arguably the most popular vocal mic in history.
It can be heard on Marvin Gaye's vocals on the song "What's Going On?" and on the Bee Gee's "Stayin' Alive."
Dynamic Microphones
Dynamic microphones are more rugged than condenser microphones – they can handle high SPL sources and usually won't fall apart if bumped by a careless drumstick. For these reasons, dynamic microphones can typically be found in front of amplifiers and used as close mics on drums. Here are some of the most iconic vintage dynamic microphones:
Electro-Voice RE20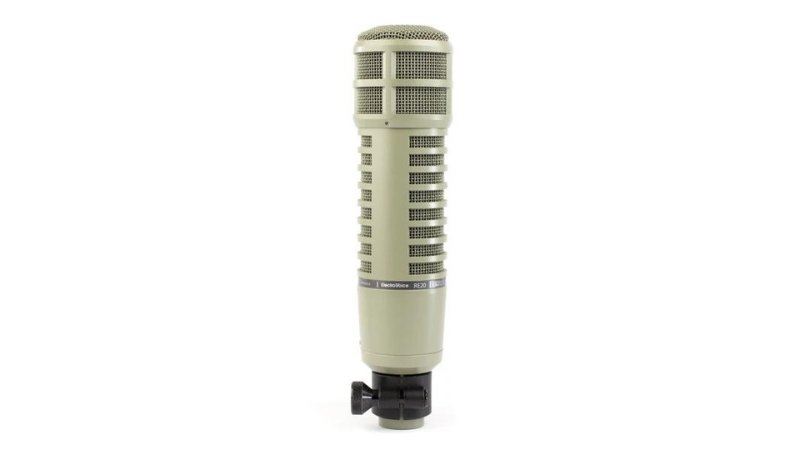 (photo courtesy of Vintageking.com)
The Electro-Voice RE20 was first introduced in 1968. It features Electro-Voice's "Variable-D" technology that essentially eliminates proximity effect (most mics introduce more bass frequency when placed in close "proximity" to the source). The RE20 weighs just over 1 lbs, and is incredibly durable with its metal casing. Inside the metal casing, there is an internal pop filter to catch unwanted plosives. The mic also features a switch to turn on a highpass filter.
The RE20 is a favorite mic for capturing dialogue and has been frequently used in broadcasting and podcasting. It's also frequently used in music on bass, toms, kick, and vocals. It can be heard on Stevie Wonders vocals on the albums "Innervisions" And "Talking Book," as well as Joan Jett's "I Love Rock 'n' Roll."
Sennheiser MD421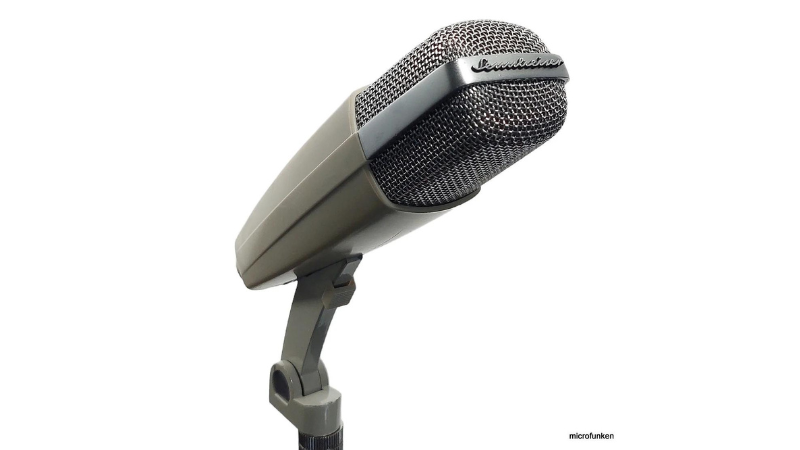 (photo courtesy of Reverb.com)
The MD421 is a large diaphram dynamic mic that was released in 1953. MD stands for"Mikrofon Dynamische" in German which translates "Dynamic Microphone" in english. The original came in lots of colors, but most commonly white, silver, or grey. More modern versions typically come in black and feature a a highpass filter. When the filter switch is set to "M" for "Music," the highpass filter is off allowing the mic to pickup its full spectrum of sound. When the switch is set to "S" for "Speach" the highpass filter is engaged to for clearer voice recordings.
The 421 is an extremely popular mic on drums, especially toms. It's also very popular on amps, and a solid vocal mic.
Sennheiser MD441-U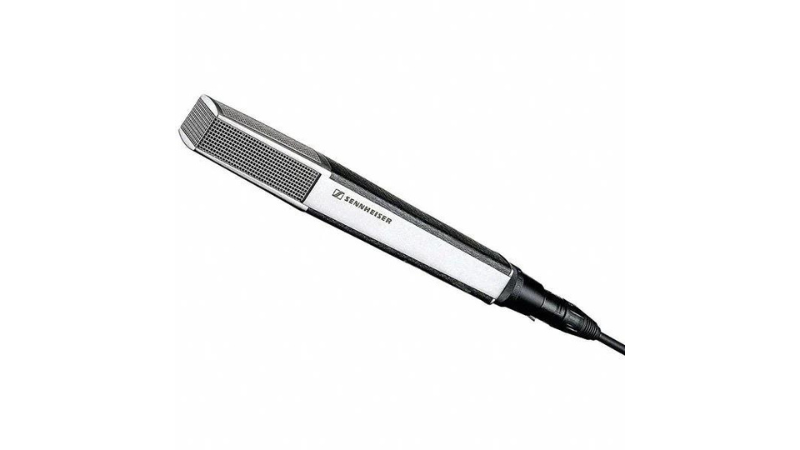 (photo courtesy of Sennheiser.com)
Released in 1971, the MD441 U has been used by legends like Stevie Nicks, David Bowie, and Elton John, as well as modern acts like St. Vincent, Olivia Rodrigo, and The War on Drugs.
The 441-U is considered the most high-end, condenser-like dynamic mic around. The mic is known to capture pristine high end and require less gain from a preamp making it a great choice for vocals and acoustic instruments.
Shure SM7/SM7B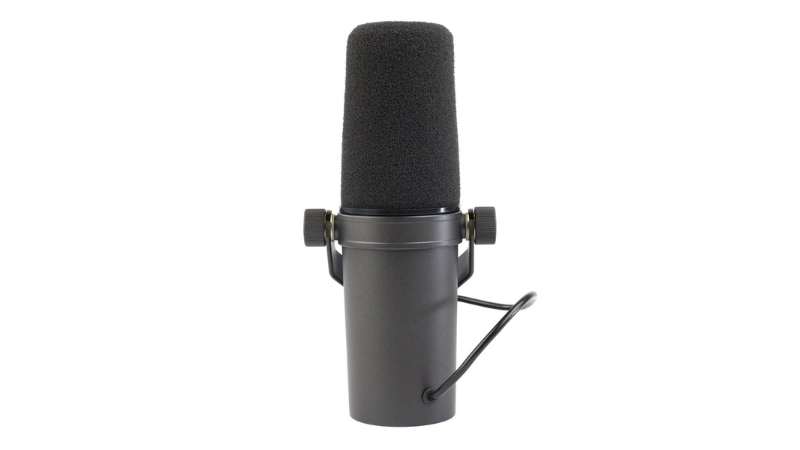 (photo courtesy of Vintageking.com)
Originally released in 1973 as the SM7B, the iconic vocal mic from Shure has become one of the most widely used mics for recording vocals and speech. "SM" stands for "Studio Microphone," a series of Shure microphones created by Shure engineer Bob Carr.
It originated from the earlier SM57 and SM5 models and has only been updated twice since its release (once in 1999 with an updated humbucking coil, and in 2001 with an added windscreen).
Ribbon Microphones
Ribbon microphones are a kind of dynamic microphone that uses a strip of aluminum or other metal instead of a diaphragm attached to a coil to capture sound. Ribbon mics are usually somewhat fragile and can have a different frequency response depending on the amount of preamp gain. Ribbon microphones are also somewhat dark when compared to other mics.
RCA 44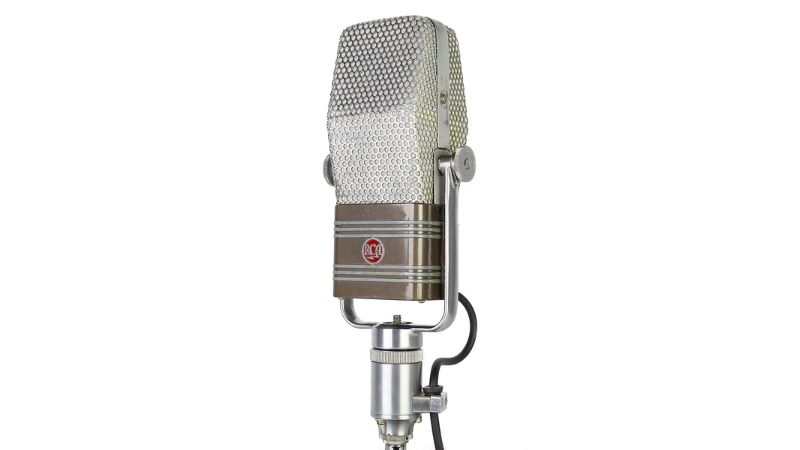 (photo courtesy of Reverb.com)
The RCA 44 was released around 1932 and was made until 1958. It was one of the first mics that RCA released (along with the 77), and quickly gained a reputation as one of the most musical mics ever made.
Its iconic shape can be seen in front of singers like Elvis and Frank Sinatra.
RCA 77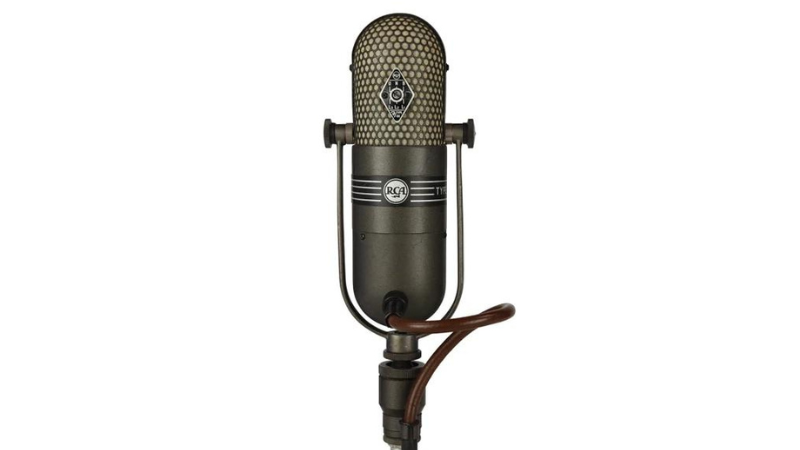 (photo courtesy of Vintageking.com)
RCA 77A: The RCA 77A was released around 1933 and was the first ribbon microphone with a cardioid polar pattern instead of a bidirectional/figure 8 polar pattern.
RCA 77B: Released in 1937, this model was much smaller than the 77A due to the updated magnet materials available at this time.
RCA 77C: The RCA 77C introduced a screwdriver operated slot that allows users to change the polar pattern from cardioid to figure 8 to omnidirectional.
77D and DX:The 7D and 7DX models introduced an easier polar pattern switch and 3 additional variations of the unidirectional pattern. It also features a highpass filter with three different levels of filtering.
The 77 was frequently used in broadcast situations by people like Larry King, David Letterman, and Dick Clark, as well as on numerous vocal recordings.
Coles 4038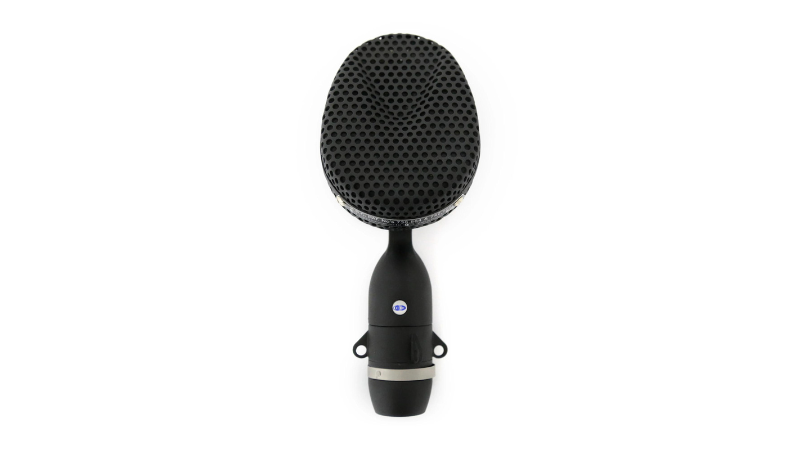 (photo courtesy of Vintageking.com)
This mic was originally designed by The BBC in 1953 and was first dubbed the "STC 4038" due to it being manufactured by Standard Telephones and Cables before Coles Electroacoustics took over manufacturing in 1972. The mic was designed to replace the BBC's Type A microphone that was considered too obtrusively large for TV.
The design of the mic hasn't changed in the 65+ years since its inception. The 4038 has been used on countless recordings from acts like the Beatles and has become one of the go-to overhead drum mics.
Beyerdynamic M160N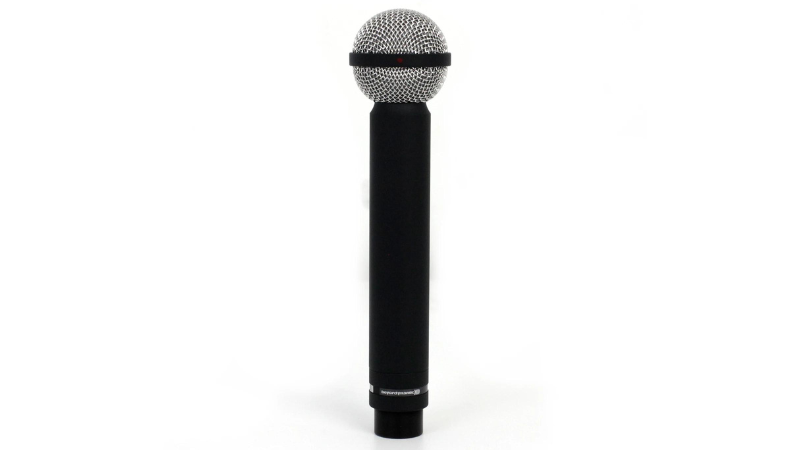 Introduced in 1957, the M160N features two ribbons situated to make it a highly directional, end-address microphone.
The M160N is known for its ability to tame harsh high end and can be heard on David Bowie's vocals throughout most of his Young Americansalbum. You can also hear the M160N on the iconic "When The Levee Breaks" drum recording (they were used as room mics to capture John Bonham's legendary performance).
Conclusion
There are countless beloved vintage microphones out there. This is by no means an exhaustive list. These are simply some of the most iconic microphones that we feel are important for musicians to be aware of. We will be updating this list with more microphones as time goes on. Have a favorite vintage mic you'd like us to add to the list? Comment it below!