Interview With Top Rated Vocalist Andrea Tyler
Andrea Tyler has performed for artists like Dolly Parton, Elton John, Barry Manilow, Jessica Simpson, Vanessa Williams, Mark McGrath, and for brands like Nascar, Universal Studios, Disney! She has also traveled the world – singing as far as China and Fiji – and has been recording for clients for about 8 years now. Whether it's a smooth blues, belting out rock, singing country or impersonating celebrity vocalists, Andrea is an extremely versatile and soulful vocalist.
— Contact Andrea about your project —
Andrea got her start in recording when she was revered by clients and fans as the number one Adele sound-alike. What started out as a little impersonator gig turned into a full-time job traveling the world and impersonating the iconic voice of Adele. Andrea was discovered by radio producers in England to portray the voice of Adele for radio stations in over 13 countries. After that, she was contacted by custom karaoke companies in the UK and Canada to portray Adele's voice for custom karaoke tracks and demos. Soon producers realized that Andrea could sound like just about anyone they threw at her (she's even rapped in Spanish!). She went from recording just Adele tracks to nearly all female celebrity tracks that the karaoke company needed. All of those beginning opportunities lead Andrea to join AirGigs, where she has been recording for about 3 years. She mentioned to us that Airgigs even paid for her wedding! When Andrea's not recording, you can find her singing full time at Dolly Parton's "Dollywood". She has written and recorded a full album with 4 original songs on it and continues to write when the inspiration hits.
When did you first get interested in music / singing?
I come from a family of singers so music was something that was ALWAYS there for me since I can remember. I was on TV for the first time when I was about 4 years old, my dad singing and me sitting on his lap. We have the footage SOMEWHERE on an old VHS tape! lol. My parents used to always say "Andrea, use your inside voice." because I would run around belting Mariah Carey and Amy Grant. The real shocker is that I had SEVERE stage fright growing up. I backed out of every music recital because I just could not perform in front of other people. I did my first solo at 14 years old and swore I'd never sing in public again. Then, one day someone said to me "God gave you a gift and if you don't use it, He might give it to someone else instead." That stuck with me…so as scared as I was – I started singing through the fear. It took a long time for me to find joy in performing in public, but one day I realized, "Hey! I'm not nervous like I used to be!"
Who were some of your earliest inspirations or influences?
Mariah Carey, Amy Grant, Karen Carpenter really were the first influences I was introduced to. Then I heard David Phelps sing and literally was overcome with emotion. I stood in the room with the TV on and my jaw just hit the floor. It was like he yanked my heart out of my chest and changed me for life. From that moment on, whenever I sang, I wanted people to FEEL the same way I felt when watching him sing. My mission was to impact the hearts of people in my audience. It was a real game changer.  
 
Do you play any instruments or write music?
I play piano by ear, but not professionally enough to really do anything with. I do write music. I have a full album on listening platforms "You Didn't Hurt Me With Goodbye". I wrote it after a really nasty breakup. I was engaged to a man who…well…let's just say, he loved women too much. When he dumped me 3 months before our wedding, I put all of that emotion into my originals. I might be biased, but I think they are really quite good and in the hands of the right people they are definitely radio worthy.
 
Did you attend music school or are you self taught?
A little bit of both. I am MOSTLY self taught. I didn't come from a lot of money and my parents put me into a few affordable lessons, but most of the teachers didn't really help me vocally. I would end up backing out of lessons from boredom and instead, mimic singers that I heard until I could sound like they did. Since then, I've taken some theory classes and caught up with a few things, but my main talent is the creativity that is just naturally there.
 
What were some of the early projects you worked on? Did you play in bands, etc?
In high school I had a connection to a few big gigs. My first real gig was singing backup for Vanessa Williams at Nascar. I was within feet of Matthew McConaughey, a few of the Beach Boys, Clint Black and a bunch of other celebrities. I was starstruck! I did a bunch of these gigs – singing backup for Jessica Simpson, Michael Bolton, singing at Disney, Universal, etc. I didn't really get into running my own business or having a band until about 10 years ago which is when things REALLY took off. 
 
You have a really beautiful, soulful voice. Did you always have a natural knack for mimicking popular vocalists like Adele, or was that something you got better at with practice?
The Adele sound is natural. In fact, I never would have even thought about impersonating Adele if it hadn't been for a friend who basically forced me into it! I do remember when I was younger, I could mimic kermit the frog, pinky and the brain and some other animated voices. I always wondered why and thought it was a useless talent, but now I see how essential this is to my work! I've vocally impersonated so many artists for clients including Cardi B, Taylor Swift, Billie Eilish, Beyonce and even Camila Cabello (IN SPANISH!)
You lead an Adele tribute show is that correct? How did that come about and where do you perform?
So, one day, my friend Carlene walks up to me and says "You sound just like Adele, you should impersonate her." At the time, Adele was just entering the scene in the US and her songs "Someone like you" and "Rolling in the Deep" were on replay all over radio stations. I honestly had no idea who Adele was or what she even looked like. I googled her and was stunned to see a gorgeous plus size girl. Carlene was an impersonator, and had the "in" when it came to the industry so she kept pushing me to do a tribute show. I didn't have faith in myself, thinking that a year from now it would just be another idea that I tried and failed. I put Carlene off for months. Then one day, Carlene called me up and said "What are you doing this sunday!? Cancel your plans!!" I was supposed to go to a concert with my fiancé at the time…but we canceled the concert and went to this birthday party Carlene invited us to. The birthday party was for Greg Thompson, the creator of the "Sunburst Convention of Celebrity Impersonators." She apparently had talked me up to him and he wanted to hear me sing. That night, I got up and sang "Someone like you" as myself…and the audience was floored. I had people come up to me that were the best impersonators in the industry…they said "oh you have to do it! you have nothing to lose!" I had a lady come up to me that night with her card saying "I'll make you an Adele wig when you're ready." Another said "I'll make your business cards!" All these complete strangers took me under their wings.
Soon after I went shopping and found a black dress that resembled something Adele wore. I started watching her performances so I could get her hand and face mannerisms down. The hardest part – I went to a vocal coach for "cockney" accent lessons. (Honestly the singing is such a breeze, it's the talking in an accent that's a doozy for me! lol.) I was asked to come to an Oscar hosted party in Orlando during the live Oscar awards in L.A. It was the year Adele was nominated for "Skyfall" and they wanted me to come as Adele for atmosphere. I remember the day of, my fiancé teased me about my weight and how Adele was skinnier than me. I kicked him out of my house! I was so hurt, I nearly didn't go to the gig because I couldn't stop crying. I cried the entire drive there, pulled myself together, threw some makeup back on and walked in. Adele won that night, her life was changed forever – and I won that night too – because it was the start of my new life. The big break up that I mentioned earlier happened and that guy freed up my future so I was able to meet my now husband, Jason, who is the MAN OF MY DREAMS. After the breakup, I began advertising my Adele Tribute and getting the word out. I went to the Sunburst convention for impersonators and I swept all of the most prestigious awards that year. Word got around. There has been A LOT of blood, sweat and tears being self-employed, but over the past 10 years I have become revered by fans and clients as the #1 Adele Sound-Alike. I've traveled the world doing shows, including Fiji, China and all over the US. Producers from around the world have sought me out to portray Adele's voice on the radio. 
What was the highlight of your career to date and why?
That's a tough one. I have so many. 
My favorite ADELE highlight is going to China with my band and singing a show for the richest man in Malaysia. We were treated like kings and queens over there. Now, side note, I had just gotten off of a surgery table 24 hours before hopping on that plane, so it was a bit of a painful highlight, but seeing my band travel so far for the first time in their lives was so worth it. My guitar player had never even been on a plane before!!! It was a "proud mom" moment for me. 
In my non-Adele career, I think singing for and meeting Elton John was pretty awesome. He was such a sweetheart, kissed me on my cheek and complimented my singing. Talk about mind-blowing! My entire life I grew up listening to Elton sing and here I was, about to perform and he was going to listen to me sing now. It was definitely a * pinch me * moment.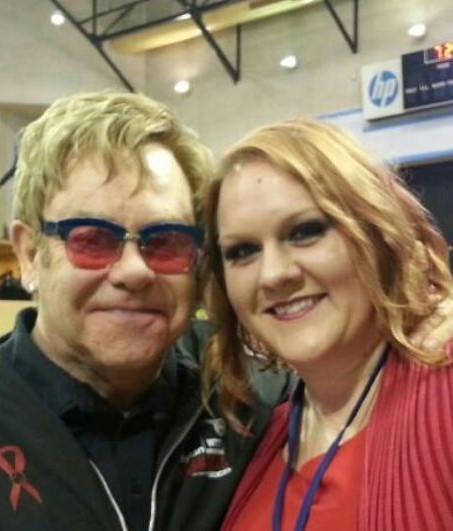 What were some of the transformative experiences in your music career? ie things that taught you valuable lessons, or changed the way you approach what you do?
I've always kinda been bullied. I don't fit into the normal "performer" story. I was never in glee club or musicals and I never was on stage front and center craving applause. I was shy, introverted (and being plus size) I was often looked at and laughed at. I was diagnosed with a disorder that has always left me battling weight, so I've never really fit into that cookie cutter performer standard. This made it really hard to get a full-time job singing for theme parks and companies who wanted visually appealing over talented. This industry tends to veer towards the "who looks better" more than the "who sings better" decision making. Because they considered me not "sellable", I was passed by more often than not. I had beliefs like "I'll never make it" Or "I was born with a great talent but in the wrong body." I had that kind of defeated mentality for many years. Once, I had an agent here in Orlando who I asked for performance advice. I looked up to her. She responded in an email saying – "You should never go to another audition again until you lose weight, do something with your hair, take acting and singing lessons and become fashionable." It was a cut-throat email which I have to this day to remind me what NOT to believe. After the hurt of that email wore off, I got angry. I was determined to make those types of close-minded people eat their words. I decided that I wouldn't rely on anyone to make my career for me. If Disney or Universal wouldn't hire me to entertain their guests, then I'd bring their guests TO ME. Overall, my biggest lesson was to remain true to myself. I began to believe that what I had was of great value and not let what other people believe determine that value.
What do you think makes a good session vocalist?
I think you have to have a really good ear. It's our job as the singer to take the client's project (that they have created and envisioned in their head) and make our vocals bring that vision into a listenable reality. I try to get as much information from the client as possible. What kind of vocal sound do they want? What kind of style? Once I know what approach to begin with, I can just go for it. If you have the means to hear harmonies and background vocals in your head, that's even better! God has blessed me with a gift of creativity and I promised Him that I would use it every opportunity that He gave me. When I hear a song in my head, I hear all of the instruments playing as well as the harmonies, the background vocals…I hear the entire masterpiece. I am a NINJA when it comes to awesome harmonies and backgrounds and I don't mind bragging about that!! lol. My best work comes when I'm given the freedom to create what I hear naturally and the client allows me to work on their project with that approach. When a client has pre-recorded harmonies and background vocals, I ask them if they would be open to getting a preliminary draft with the version I hear in my head. I ensure them that afterwards, I will record what they want. I kid you not, 9 out of 10 times, the client scraps their pre-recorded ideas and goes with what I send over. Those are the clients who leave reviews that their song was transformed beyond what they could have imagined.
 
What do you think makes a good client?
A good client is someone who communicates clearly from the get-go. They use descriptive words in the beginning (or refer to other songs/artists) to help the singer understand how they want to song delivered. They are respectful of the singer's time and aren't having the singer go back and forth with the project. A good client gives the singer the opportunity to fix any mistakes without penalizing them with a negative review. If they want to be an EXCEPTIONAL client – they'll send an additional tip upon delivery.
What's your home studio setup like?
Most people would be shocked to see it – it's really simple. I have a computer, a nice microphone with sound proofing built around it and an audio box. That's it! To me, you don't have to have thousands of dollars worth of equipment! I just focus on getting a clean clear recording of the vocals and then I leave it up to the engineers and mixers to do the REAL magic!
 
How do you approach remote sessions with clients? ie do you have a process, or is every session different?
I have a pretty fool proof system in place. 
Get all the info from the client. What style song do they want? Are there any artists that they want this song to resemble? Do they want it soft, whispered, belty, soulful, classical, etc. Are there any specific places that they want harmonies or background vocals?

I send over a 1st draft. I remind them that this draft is solely to place the timing, melody and style where they want it to be. I will work on the perfectionist stuff in the final draft. I send over the 1st draft.
Feedback on 1st draft. They tell me what they love, what they hate. I tell them to give me specific minute/second notations where they want any changes. I don't go to a 2nd draft until this part has been completed and they give me a "green light" to move forward to the 2nd draft.
Record 2nd draft. I make all changes they want, I add in some additional details, harmonies, background vocals and ad libs for a fuller sound. I try to get this as close to a final version as possible.
Feedback on 2nd draft. They must give me a green light/stamp of approval before I can move on to the third and final draft.
Record final draft. I make any final adjustments and requests asked of me.
Submit final draft for green light/approval and I mark it complete.
I also tell my clients that if there are any adjustments needed while they are going through the mixing process to reach out. Even if it is "complete" on my end, it is most important to me that they have a 5 star experience and want to come back and use me again in the future. My 5 star service is about them getting the song they dream about from start to finish, even if it means hopping back into the studio for a few little tweaks. 
I always offer a money back guarantee, but people rarely need it because of the system above. If the client doesn't like anything about the first draft, then we agree to mutually cancel and I just eat the cost of my studio time, but that rarely happens. My system also protects me from a client saying "I'm not satisfied" at the end of the project and then walking away with a complete song for free. 
      
What are some of the projects you are involved with now?
Well, my latest project as Adele started through airgigs and I am currently under an NDA so I can't give any details about it yet. Womp womp woooooomp!! But I can say, you'd all recognize the celebrities involved in it and it's a big deal! Hey! Maybe we can do an updated interview in another year so I can finally spill the beans!!!! lol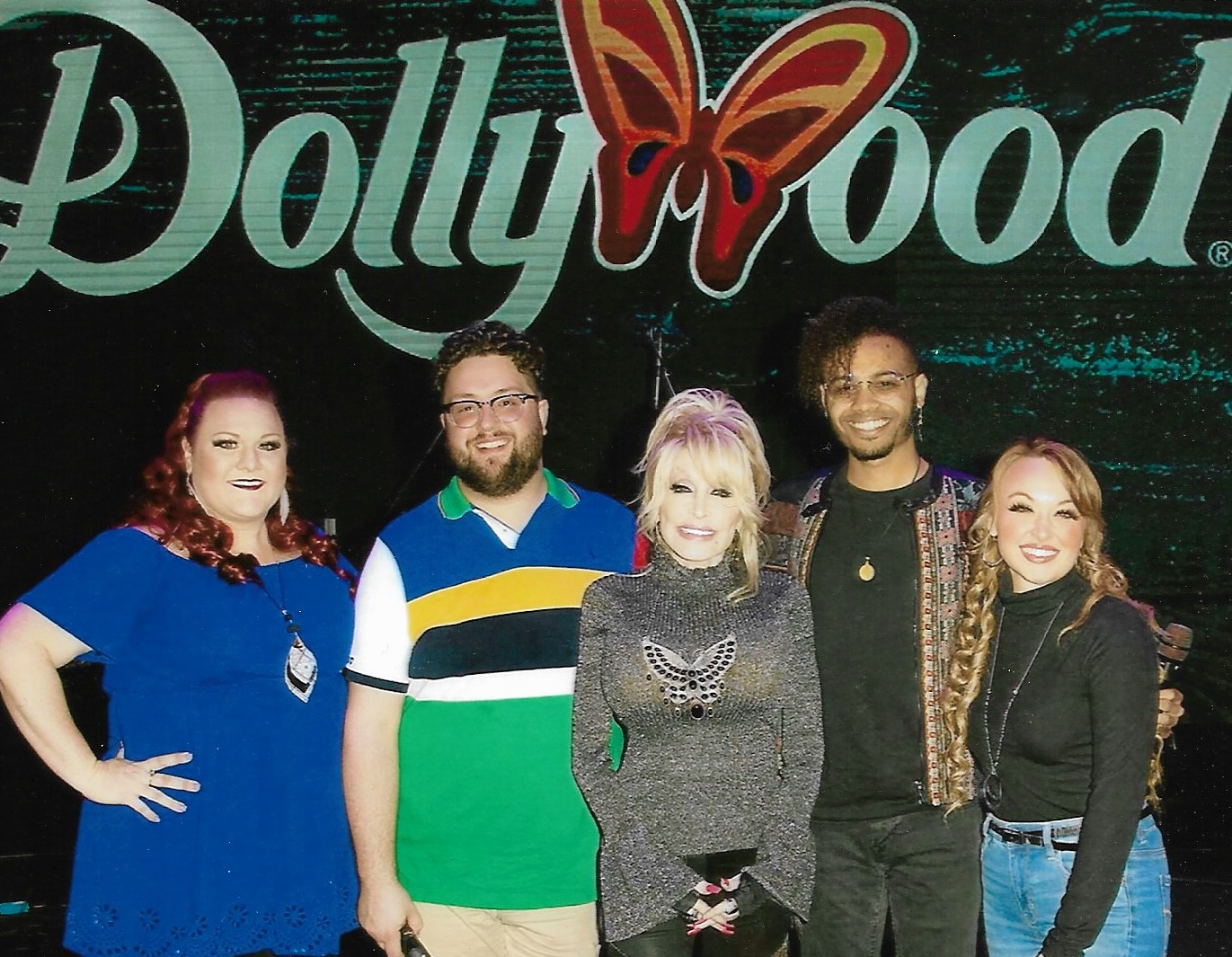 I can talk about my full time job though. I auditioned for Dolly Parton's theme park Jan 19th, 2022. 3 days later, they asked if I could move up that weekend. So, I kissed my fiance, Jason, goodbye (only temporarily!!!) and moved to Pigeon Forge TN. On my 4th day singing, I met Dolly and got a picture with her. She's pure gold. Jason moved up in June when his lease ended, we got married on a mountain under a waterfall with just our immediate families and we are now living our best lives in the Great Smokey Mountains! I do 5 or 6 shows a day depending on the season. When I get home from a show day, I'll hop on airgigs and knock out any orders that I have going. I'm always working on something and I always wear multiple hats when it comes to performing.
 
Care to share any big dreams yet to be realized for you?
Hmmmm…big dreams!!! This question kinda took me by surprise because I just realized I've accomplished the big ones that I had and it's time to make some new ones! I guess the biggest would be singing the National Anthem for the Super Bowl but ya kinda have to be famous for that!!! lol. 
I would love to travel the world more. 
I would love to meet Adele in person. 
I would love to get some of my original songs into the hands of people who could get them on the radio. My main goal is NOT to be famous because I think being under the scrutinous eye of millions of people would really get to me, but I would love to make more money from my own music.
Maybe work one on one with Dolly and have a few celebrity friends that I could write music for!
— Contact Andrea about your project —