5 Things Musicians Can Do In The Next Week To Start Making Money Online
This is a guest post by Bree Noble. It's part of an ongoing series we're doing to help provide resources and practical tips during this crisis.
These are uncertain times, especially for musicians. With gigs being cancelled, venues shut down and private lessons deemed unsafe, you may be scrambling to replace your regular income. Luckily, there are many income opportunities online you can pursue.
With many forced to "shelter in place", our fans have more time to enjoy music and even improve their musical abilities. So how can we serve them while also recouping lost income?
In preparation for writing this, I asked my community what would be the most helpful information for them right now. Overwhelmingly, they said they wanted simple solutions they could put in place immediately that would generate income NOW that they could execute entirely online.
These strategies assume you have a fan base or group of supporters (even if it's small) that you can communicate with online.
Online Concerts
You may have already been incorporating live streaming into their marketing. But have you ever used it to generate income? If not, this is the perfect time to try it out.
I know technology can be daunting, but It can be as simple as using Facebook Live or Instagram Live, then asking fans to make donations through your website, Venmo, or PayPal during the show. The easiest virtual tip jar to setup is PayPal.me. It takes just a few minutes to set up and provides you an easy link to mention during the show (don't be shy!) and that you or a volunteer can post in the comments multiple times during the live stream.
If you're new to live streaming on these platforms, there are plenty of tutorials online that walk you through the steps. Just make sure when you're searching that you read or watch the most up-to-date trainings as the mechanics of these platforms change often. Alternatively, there is probably a member of your family who can help you figure it out, especially someone in the younger generations. There is no shame in asking for help.
StageIt is a great platform if you're looking to sell tickets and accept tips during your performance. (They also recently announced that they're upping artist payouts to 80%.)
If you want to have complete control of the money you bring in from tickets and create an intimate environment, consider using Zoom. Sell tickets through your website, Paypal or a ticket site. Then provide concert go-ers with a link to a private zoom room via email.
For just $14.99/mo you can host online gatherings on Zoom of up to 100 people, interact with your fans face-to-face and deepen the connection. You'll also get a recording so people who can't be there live can watch the replay. A side benefit is that you'll get a recording you can split up into smaller segments and use for marketing purposes later.
Setup a Paid Fan Club
Your fans love what you do and want to support you. They just might not know how. A paid fan club is a great way to create recurring income to cover ongoing bills while sharing exclusive content with your super fans.
This could be the perfect time to start your paid fan club. With everyone trapped at home, you have more time to create content and your fans have more time to consume and enjoy it.
Put the word out to your email list and on social media that you've got this exciting new opportunity. Do some live streams to talk about the benefits and any exclusive offerings only for fan club members. You can even solicit ideas from them about what they want you to offer in your fan club.
What benefits could you offer your members? If you enjoy recording and can do it from home, consider offering exclusive recordings. If you love playing live, offer exclusive live stream concerts just for fan club members (see above). Get creative!
One easy way to manage your paid fan club is with Patreon. If you prefer to have complete control and keep 100% of the money, Bandzoogle offers a fan subscription option built into their platform.
Limited-Time Merch Bundles
Because CDs are often a "hard sell" on their own these days, I always encourage musicians to create merch bundles. But right now, you have a unique opportunity to make your merch bundles really exciting for your fans.
What can you add to a merch bundle that is highly personalized? With more time on your hands right now, it's the perfect opportunity to include cool, one-of-a-kind items.
A popular add-on is hand-written lyrics. Or maybe you're a crafter or artist who can create unique gifts for your fans to make a merch bundle extra special. What about recording a personalized video directly to each fan who buys a bundle? Think about how you can use your time to create things fans want that they can't get anywhere else.
You may consider polling your fans to see which of the ideas you came up with appeal to them. Then create a limited-time bundle including CDs, merch items and unique items and start promoting.
Online Music Lessons
Do you already teach lessons in person? If so, you can easily relocate to online.
Zoom is a great platform for lessons. The free account offers up to 40 minute meetings. Or you can pay $14.99/mo and get unlimited length and recording capability. Skype is another option. Both of these allow for video (assuming your internet connection is strong) which allows you to see and communicate with your student almost as well as in person.
If you don't already teach, this might be a great time to start! Your fans may be really excited to learn a skill from you one-on-one. Put the word out and test the waters.
Release A Mini Course
This may sound overwhelming, but it doesn't have to be. And the benefits are huge! If you put in the work right now to create this asset (while you have extra time), it could pay dividends for months or years to come.
A mini course could be as simple as one lesson. Is there something you teach students over and over that you know gets results? Is there a specific, bite-sized skill people come to you to learn? Here are some examples:
Daily vocal warm-ups
Exercises for singing higher
Specific guitar chord progressions
Quick chord switching techniques for guitar
Cool strumming patterns
Midi tutorials
A specific recording or mixing technique using a certain software
Those are just a few examples. Take inventory of what you already teach (whether paid or advice you've given). What bite-sized nuggets can you offer for an affordable price ($7 – $97)?
You can easily record the lesson or lessons on video using your webcam or even your phone. If you need to screen share, you can use Zoom and record your screen while also being on camera (or not). Use Google Docs or Word to create written materials and convert them to PDF.
How will you deliver your mini course and take payment? This doesn't have to be complicated either. My favorite platform is Teachable. It has everything you need built in. All you need to do is upload your content and make it available for sale.
In fact, Teachable has some awesome training coming up very soon that will help you not only learn to create your course, but also how to market it. It's called the Reach Summit and it's happening March 24 – 26, 2020. I recommend you Register Here and learn all you can form these experts while you have the extra time to devote to it.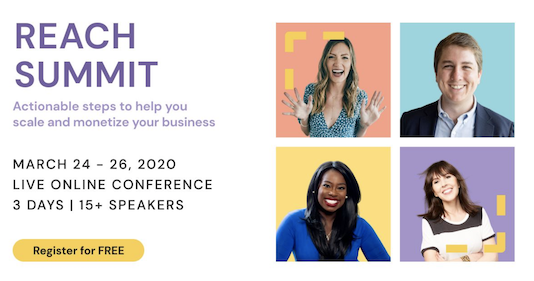 What Will You Be Doing This Week?
We'd love to hear which of these strategies you're going to start with. Or, if you've come up with something innovative that creates income for musicians not mentioned above, kudos! We'd love to hear about it in the comments.
Bree Noble is a music marketing & business coach, best-selling author of "The Musician's Profit Path", recognized speaker, and award-winning podcaster. As founder of both Women of Substance Radio and The Female Entrepreneur Musician, Bree is a champion and go-to resource for Indie artists in all genres. Her most popular offerings are her Female Musician Academy and her Rock Your Next Release program.